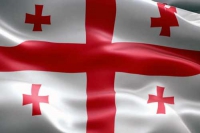 Facts about Georgian language
Facebook
VKontakte
Odnoklassniki
Twitter
The Georgian language is the official language of Georgia. The Georgian language has many dialects, corresponding to the territorial areas of Georgia and the location of ethnographic groups of Georgian population.
The Georgian language is very conservative. The evolution of the literary Georgian language is very clearly seen in the literary works that have come down to our time. Even now schoolchildren study the works written in the fifth century in the original.
Modern Georgian consists of 33 letters and has its own alphabet. The peculiarity of the Georgian alphabet is the lack of capital (uppercase) letters. Quite often you can come across 3-4 and even up to 8 consonants running but two identical consonants cannot be located side by side.
A few words should be said about Georgian numerals: Georgian as well as French use the system of numerals based on twenty. For example, 74 is pronounced as "three times twenty and by four more than ten". An interesting feature of the Georgian sound system is a striking phonetic conservatism preserving the Georgian language sound structure of the ancient period to the present day without notable phonetic changes.
The question of the Georgian language genetic links has not been settled up to now. The most plausible assumption is that it originated from the Armenian and Greek scripts.
Georgian letter look very complex, though at present there is a tendency to their simplification. As a rule, Georgian letter bear little resemblance to each other and cannot be properly connected in writing. Modern Georgian script has not developed solid italics. Efforts in this direction make Georgian italics similar to fancy ornate lettering.
The Georgian language is represented by 17 dialects and relevant sub-ethnoses. A special role in folktales and fables is played by pronouncement; a character in his/her verbal behavior is so easily recognizable to all Georgians that there is no need to call him/her by name or specify his/her location.
Due to the well-known Georgian cuisine, a lot of words naming dishes and wine brands have become current in many languages: khachapuri (cheese bread), tkemali, suluguni, yoghurt, Satsivi, khinkali, chahobili, Kindzmarauli, Rkatsiteli, Saperavi, and others. Typical Georgian surnames end in –dze (characteristic of Western Georgia) and -swili (characteristic of Eastern Georgia) which means "child". The people coming from highlands have surnames ending in –uri, -uli. One of ethnic groups abound in surnames ending in –ani and –iani.