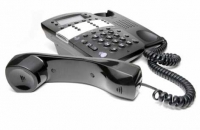 On-hold messages – expectations and reality
Facebook
VKontakte
Odnoklassniki
Twitter
On-hold messages – expectations and reality
On receiving a finished file with a
onhold message
recorded by
professional voice talents
at a professional studio some customers feel disappointed and make complaints which cannot be met at present. In future there may appear higher standards of telephone communications. But now I would like to draw your attention to the following.
On the website all demo samples are high quality – 44000 kHz. Phone prompts messages are sent to customers in two formats: full quality and telephone quality. The telephone format is to some extent lower than the original as all IP-telephony codecs result in "compression with certain losses". The final characteristics differ in parameters and on the whole the sound quality is lower than in computer.
You make a on-hold prompt not for a computer but for a phone. The telephone line bandwidth is smaller and it cannot but affect the sound quality. But what can you do about the bandwidth which is the same for everybody, even for your President?
While listening to your phone operator's answer phone, you could hardly pay attention to the sound quality but the voice talent's job is done perfectly.
Just as 11000 kHz make a smaller amount than 44000 kHz, in the same way the sound quality is lower. But can you imagine how unlucky are those with the 6000 kHz bandwidth?