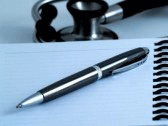 Voiceovering Medical Scripts
Facebook
VKontakte
Odnoklassniki
Twitter
What is difficult in voicing medical presentations
Voice over presentation films, press releases, articles dealing with medical sciences is to be discussed separately. Really when reading a medical text one comes across a lot of difficult, hard-to-pronounce medical terms, which makes voicing medical scripts so labor-consuming and, consequently, consuming more time than any other texts. This is caused by the fact that in order to sound naturally all these medical terms are to be rehearsed repeatedly.
But once the
voice-talent
has coped with the difficulties successfully, he will certainly benefit from it, as his customer is unlikely to look for another narrator to do similar jobs. Moreover, such voice over can become really popular and in great demand in the medical circles, thus leaving behind his competitors.
As a rule, when ordering the voicing of medical texts, customers do not pay much attention to the diversity of voices. Probably this is due to the complexity of medical texts, and it is the correct and fluent pronunciation coupled with confidential style of performance that counts above all. Before starting the session the voicetalent is to practice a lot varying the rate and dynamics of his speech to make it sound naturally and fluently. It should be noted that medical customers do not have any gender preferences. Both female and Russian male voicetalents are equally in demand.
But that is not all. No matter how well the voicetalent has mastered medical terms, how fluent he is in delivering the information, still the listener will not attend to it properly unless the artistic abilities are applied because it is these abilities that make the story worth listening. And if the narrator has managed to make you listen to a medical presentation or
E-learning
, you must pay him his due, for it is not a detective story which can easily occupy your mind but a tedious collection of obscure words of Latin origin. And it is only if the voicetalent does his best that the description of a disease, or of a new treatment method, or of a new medicine action can capture the attention of a listener.