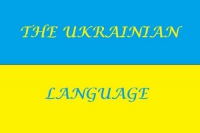 Peculiarities of the Ukrainian language
Facebook
VKontakte
Odnoklassniki
Twitter
When studying such melodious and, at the same time, complex language, one should pay attention to its peculiarities which make it easier to understand the language properly and thus facilitate mastering it. It is worth mentioning that Ukrainian has a lot in common with other east European Slavic languages belonging to the vast Indo-European family but at the same time it differs considerably from them. For example, only Ukrainian preserved a vocative case which is used in addressing people, while other languages use it only in addressing the God.
Another feature of the Ukrainian language as compared to Russian is that it has fewer homonyms (the words that are different in meaning but similar in writing or sound), which testifies to the language vocabulary richness. For example, in Russian the same word is used in the meaning of "be ill" and "cheer for a team", while in Ukrainian there are two different words. Besides, Ukrainian contains a number of adjectives which are derived from the same noun but differ in meaning, which is not characteristic of Russian.
On the other hand, Ukrainian has fewer synonyms as compared to Russian but, in our opinion, it should be considered not as a shortcoming but rather as one of the peculiarities which make this language unique and different from other languages.