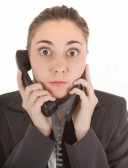 Russian female voice-over for the phone auto-responder.
Facebook
VKontakte
Odnoklassniki
Twitter
It happened so that the human society consists of men and women. The women, or the weaker sex as they are often called, are inclined to yield the palm of supremacy to the stronger sex in almost all spheres of life. But what does "almost" mean? It means that there are certain spheres where women still do not give in. And one of them, though not frequently mentioned, is recording of
Russian female voice-over
greetings for phone auto-responder device. But this unpretentious at first sight work has a lot of nuances and their disregard may cause damage to the company. Just try to remember your communications with an phone auto-responder. Whose voice did your hear in the receiver? I bet it was female voice in 90% of cases.
Why can't men win this job from women and why can't the man's voice compete with the woman's voice in recording voice greetings for an
on-hold message
? To answer this question one should trace the development of the human society and see the difference between men and women. The man has been always supposed to make decisions, to act, to create and the man's voice is also associated with such actions, that is why you expect from it clear and concrete information. What can be better than this? But it appeared that as far as answering devices are concerned, exact information is not quite the thing you want to hear. Most calls to various call-centers are made by people who need attention and consideration, comfort and even consolation. But the male's voice never disposes to conversations and pleasant relationship as does the female's voice-overs via phone. Besides, everybody involuntarily associates the
woman's voice
with that of his mother which used to calm, to inspire trust and confidence, to make you share your feelings. That is why the female's voice is just as habitual in phone auto-responder as the man's voice in the office of the chief.