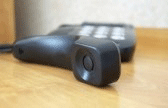 Voiceover recording for telephone
Facebook
VKontakte
Odnoklassniki
Twitter
Article. Voiceover recording for telephone answering machine. What there is to know.
Have you ever thought of the importance of recorded greetings from an
telephone answering machine
, the system of interactive voice menu that provide the person on the phone with all necessary information? Have you thought of the way it can influence the company prestige?
No doubt, an telephone answering machine with recorded voiceover samples in Russian language is a great invention which makes it possible for a person on the phone to get all information he needs but on the condition that this information is irreproachably made up and well voiced. In other words, an answering device is the face of the company and an element any company can't do without. But it does not mean that if you record a lot of voice samples you will undoubtedly contribute to the company success. The process of recording
voiceover in Russian
language for an telephone answering machine has some nuances which make it delicate and rather complicated. First, if you want the recording to sound respectably and prestigiously do not try to record the voices of your colleagues, no matter how melodious they seem to you. Your answering device must contain only the voices of professional voice talents in order to present your company properly. Then you should decide which voice suits you most: a native Russian male narrator's or a female's. It is a very important issue as the female's voiceover provokes confidence and sympathy whereas the male's voice over sounds more reliably and businesslike. After that you should determine the most essential qualities of the voiceover such as tonality, style of reading, age sounding. On clearing up all the points, you should turn to us for realizing professionally all your ideas, their digitalization and installation into your telephone answering machine. Only on this approach your auto-responder device will please your clients and thus contribute to your company's success.