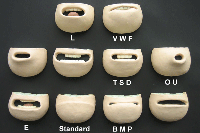 Difficult work. Lip Sync as a test
Facebook
VKontakte
Odnoklassniki
Twitter
Despite great experience of nearly all voice talents in our studio, not each of them can boast of lip synchronization, that is, video post-synching. It is little wonder that one of the most difficult jobs – video dubbing has become a litmus paper influencing the person's further career: either he/she will be in great demand or will have to give up this field. But let's get to basics…

Video dubbing or lip synching is a very popular type of work in the production studio.
Making a video or working at the video which is not to be filmed (for example, a cartoon) is aimed at creating a quality product demonstrating everything that has been planned: script, sound elaboration, arrangement of shots, characters, etc. Ideally everything looks great but in reality numerous contingencies tend to spoil the overall picture. Then all hopes are pinned on the video editor's good taste which can bring the film to the state at least vaguely resembling the grand plans.
Why is it so? You can see the dynamics, the beauty, the tenderness but the charm is lacking completely. And it is because of that boomy voiceover? Unfortunately this can happen even to a professional actor who is not experienced in voiceover.
What will you need to record voiceover professionally?
Of course, all that superfood equipment like video cameras that help to create real masterpieces with perfect voiceover are not at hand in the studio but it is OK, you will not need it. But if the leggy model who looked great in the shot does not pronounce half of the letters correctly, you will have to resort to the production studio services. It can be 2voiceover.com all the necessary equipment is kept in readiness and hundreds of professional voice talents are eager to embellish with various emotions your off screen commentary to the video. Replacing the original sound in a video is not an easy task. The
finished product
can sound quite well but
Helen Volkova
, our voice talent, had to record it several times because of certain difficulties which will be the subject of our next article.